Best Dog De-tangler Sprays for Knots & Matted Fur - Smiley Dog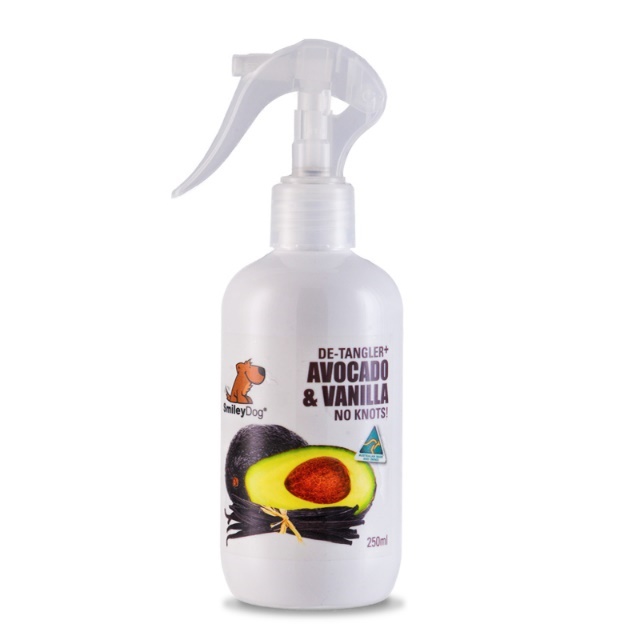 Shiny, smooth, and tangle-free hair is the pride of your furry best friend. Simply watching their untangled hair swaying in the wind and reflecting sunshine can fulfil your heart with affection. However, jumping into leaf piles and rolling around the mud can impact their shiny hair significantly. Often such scenarios result in hair knots and matted fur, which can cause discomfort to your dog and make brushing a challenging task. If the condition worsens, knotted and matted hair can cause discomfort to your dog and harbour dangerous bacteria. You may even have to ask your Groomer to shave off the matted / tangled area to encourage new hair growth across the coat.
One of the best ways to tackle knots and matted fur is using a dog detangler. Applying a detangler spray on your dog's coat can help loosen knots and reduce the chances of matting. Although detanglers cannot replace a much-needed brushing session, they can make the detangling job easier and provide comfort to your furry friend.
What is a Detangling Spray?
Detangling sprays are liquid solutions used to soften and lubricate the fur of your dog. The solution makes it easier to brush any loose knot or matted fur. Detangling sprays are often used to loosen stubborn knots and prevent chances of hair breakage or damage. These must-have sprays can also help condition and protect your dog's coat while ensuring less static. If your pooch is developing knots often and experiencing discomfort, detangling spray can help ease the issue and remove difficult, stubborn knots.
Why Use a Detangling Spray?
Detangling spray is a must-have dog product essential every pet parent should own. The solution can prevent uncomfortable matting or knots in your dog's fur and ensure an untangled smooth coat. Here are a few reasons to use detangling spray on your furry friend's coat:
Reduces discomfort (soft fluffy coat)

Helps to dislodge dirt and bacteria (straightens out hair)

Reduces need to shave off badly matted hair (what a relief!)

Reduces skin issues (air circulates better- around coat/skin)
The Best Dog Detangler Sprays by Smiley Dog
1. Avocado & Vanilla Detangler
Best For - Detangling Stubborn Knots or Matting
Our Avocado & Vanilla Detangler spray is formulated to loosen and remove stubborn knots or matting on your dog's hair. The formula leaves zero residues on your furry friend's coat and is completely natural. The aqua, natural extracts of coconut, avocado, macadamia, and keratin used in the formula can ensure a healthy, shiny coat. Sweet vanilla fragrance ensures a pleasant and fresh aroma from your dog's coat. Our Avocado & Vanilla Detangler spray is 100% biodegradable.
Directions for Use
1. Shake before use and spray de-tangler onto matted or tangled areas of coat (can be used before, during or after Groom. Leaves NO residue on the coat)
2. Leave for 2-3 minutes, then use a de-tangle brush with wide flexible teeth to gently comb through coat and make sure de-tangler is evenly diffused. (you can also use our matching Avocado & Vanilla De-tangle Shampoo)
3. After shampoo and gently towel drying spray any stubborn knots and again brush to separate hair.
4. Blow dry so that coat is mainly dry.
5. While finishing drying, brush dog to remove knots and straighten and fluff coat.
6. Once fully dry, brush and comb out any knots that remain.
7. Products: Smiley Dog Detangler and Coat Gloss with de-tangler must be used AWAY from face/eyes
2. Island Escape - Coat Gloss Spray with Detangler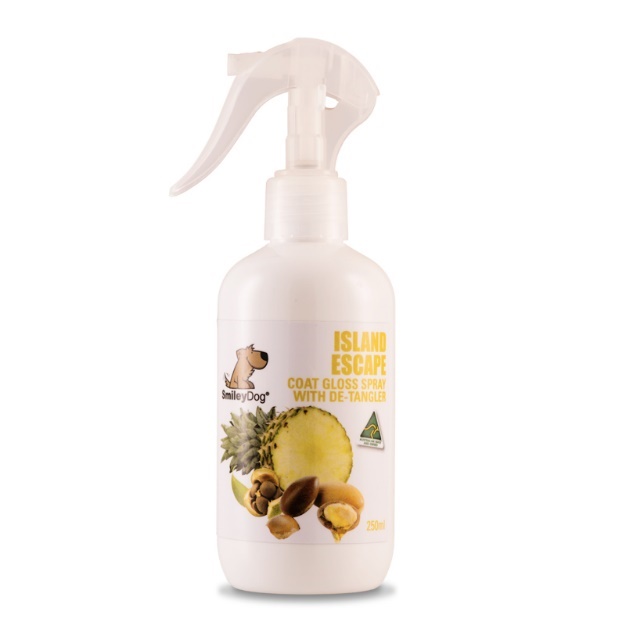 Best For - Smooth Glossy Finish
If your furry friend's coat has lost its original shine due to matting or knotting, consider using our Island Escape - Coat Gloss Spray with De-Tangler! The formula will provide a smooth glossy finish on your dog's dull, knotty and matted coat. Packed with water-soluble silicone, argan oil, coconut oil, sweet almond oil, camellia seed oils and Vitamins E & B5, this detangler will bring back the natural shine from your dog's coat and ensure a unique, refreshing aroma. Our Island Escape - Coat Gloss Spray with Detangler spray is 100% biodegradable.
At Smiley Dog, we offer various wholesale pet products to retailers and dog groomers in Australia. You can browse through our extensive range of pet products and offer your furry friend the best solution.