6 Benefits Of Using Goat Milk Shampoo For Dogs
As a dog owner, you would want to choose a natural pet shampoo and conditioner that can nourish your pup's skin, get rid of itchiness, and keep their coat healthy. One of the best options is goat milk shampoo. Goat milk shampoo has several benefits for your dog—from nourishing the skin, getting rid of itchiness to maintaining a soft and healthy coat. Made with all-natural ingredients, goat milk shampoo can offer a soothing effect on your dog's itchy and irritating skin.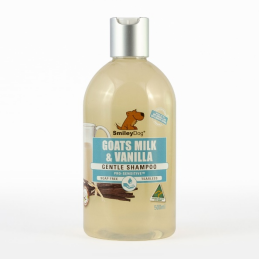 Why Should You Choose Goat Milk Shampoo For Your Dog?
Most pet shampoos designed for dogs contain a variety of chemicals. Such shampoos can keep your dog's coat clean but also dry their skin, causing allergic reactions. Besides, dogs have a habit of licking themselves after getting a bath, which means they might even ingest those chemicals. Using an all-natural solution such as goat milk shampoo can help avoid all of these problems. Made with all-natural ingredients, goat milk shampoo doesn't contain itchy and harmful chemicals.
Benefits of Using Goat Milk Shampoo
1. Moisturises Skin
Goat milk shampoo contains a high amount of fatty acids which locks the moisture into the skin, thereby, naturally hydrating your dog's skin. The all-natural ingredient dog shampoo helps get rid of dry skin, moisturise the skin, and encourage the growth of new, healthy skin cells. Many dogs suffer from Seborrhea (a skin disorder) causing oil build-up on your dog's skin, resulting in dry skin. Goat milk shampoo can naturally wash away the build-up and gently nourish your dog's skin.
2. Ensures Soft and Healthy Coat
Apart from containing high-level fatty acids, goat milk shampoo also has a substantial amount of Vitamins A, B, C, and E. These vitamins can nourish your dog's coat and ensure it stays healthy, soft, and smooth. Goat milk shampoo also contains glycerin, which can help retain moisture in your dog's skin and coat.
3. Soothes Itchy and Sore Skin
Skin allergies can often lead to itchy and sore skin. These itchy and sore skin are hard to heal, and excessive scratching can lead to bleeding. During such times, using a dog shampoo with natural ingredients can do wonders. Goat milk shampoo can help soothe itchy and sore skin. The all-natural shampoo can help protect against bacteria from getting into the open wound. Goat milk shampoo also helps prevent infection and inflammation, thereby healing skin quickly and easily.
4. Suitable For All Dog Breeds
Regardless of whether you own a short-haired Chihuahua or a long-haired Bernese Mountain Dog, goat milk shampoos are suitable for all dog breeds. From fluffy coats to sensitive skin, Goats Milk Shampoo will take complete care of your Adult Dog or growing Pup's needs.
5. Natural Ingredient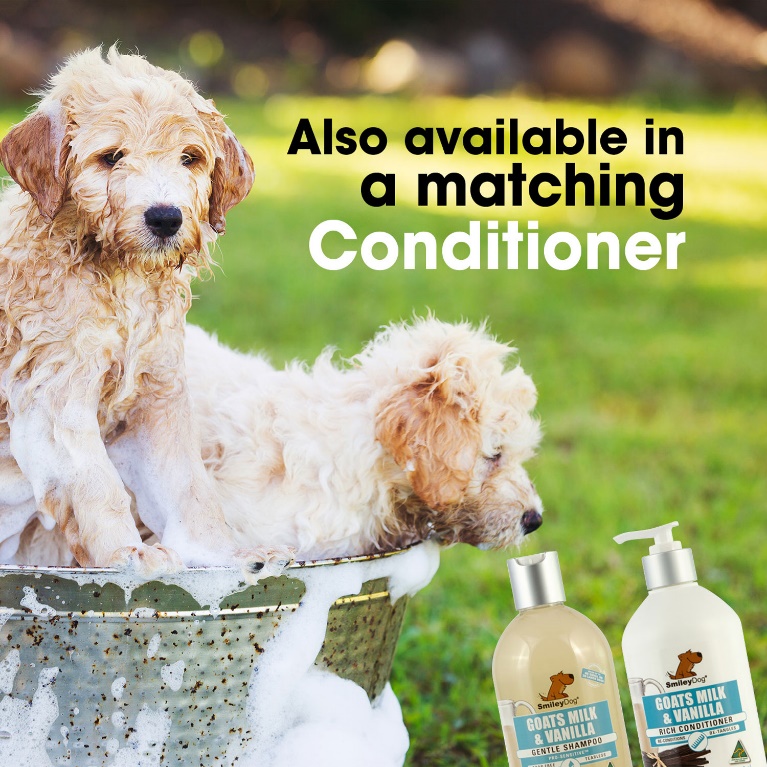 Goat milk shampoos are made from natural ingredients, making them perfect for any dog and their skin condition. You don't have to apply those harsh chemicals to keep your dog's coat healthy, clean, and soft.
6. Suitable for Regular Bath
Most dogs need a bath every couple of weeks, and using chemical-based shampoos can dry out their skin or reduce moisture levels. However, with naturally formulated goat milk shampoo, you can rest assured about bathing your dog more often.
Check out our Goats Milk and Vanilla soap-free Shampoo formulated with high-quality Australian Goats Milk (powder form), Aloe Vera gel, Glycerin, and Vanilla fragrance. You can use this shampoo along with long-term Flea control treatments. A perfect pet essential to keep your dog's coat healthy, soft, and happy!